Automated External Defibrillators: AED
You have read all the facts. CPR is not enough. For Sudden Cardiac Arrest
what saves lives is an AED
Each company is different and your needs must fit the product. Contact us and we will talk about what best fits you or your company the best. Cost? Depending on your needs a quality AED can run from $1,600 and up. We are a dealer for many high regarded manufactures. Once we know what you need we find the best price.
Many of our clients find these Manufactures to have the high quality and customer satisfaction. As well as having excellent value.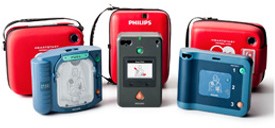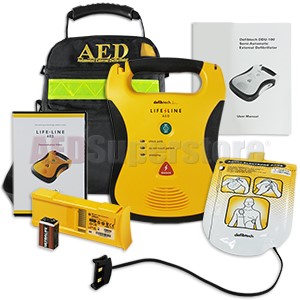 An AED is highly recommended for every business. Why? Because in the time it takes for EMS to arrive for a SCA most employees will be brain dead. Performing CPR with the NEW Protocols can keep the vital organs viable, but it's the AED that gets the heart pumping again. So you have one? But where is it? The old real estate adage also applies to an important consideration for your company's Automated External Defibrillator (AED): it's all about location, location, location.
Does your company keep its lifesaving device(s) in an easy-to-access, visible spot? OSHA's informational booklet, Saving Sudden Cardiac Arrest Victims in the Workplace, offers up a thoughtful list of optimal places for facility managers to keep in mind when installing an AED:
AEDs should be conveniently installed to ensure response within 3 minutes.
Areas where many people work closely together, such as assembly lines and office buildings.
Close to a confined space.
Areas where electric-powered devices are used.
Outdoor worksites where lightning may occur.
Health units where workers may seek treatment for heart attack symptoms.
Company fitness units and cafeterias.
Remote sites, such as off-shore drilling rigs, construction projects, marine vessels, power transmission lines, and energy pipe lines.
But purchasing your device and mounting it in an appropriate spot isn't the end of the story. An early defibrillation program is part of a commitment to the health and safety of your employees, customers, and vendors. Sudden cardiac arrest (SCA) strikes approximately 340,000 people in the U.S. every year and less than 10% survive (chances of survival drop 10% for every minute that passes before cardiac rhythm is restored). An AED and early defibrillation program can improve survival rates, raising them as high as 60% in some estimates.
Already have a program in place?
Be sure you are getting the most from your investment. Ongoing training is essential. Classes are fast and fun. But most important the training almost guarantee the employee will use the AED correctly in an EMERGENCY.
If you plan on adding this lifesaving technology to your facilities, we can help you implement a faster trained response to sudden cardiac arrest.
Our AED program management covers critical elements, including the initial prescription required for purchase, routine device maintenance, and emergency care training including CPR, AED, and first aid.
Adding AEDs to your first response capabilities requires a new mindset — this isn't basic first aid with bandages, swabs, or antibiotic ointments. Defibrillators are only one part of an effective resuscitation program, but they're an important one to ensure everyone at and around your facility has a chance, should SCA strike. Give us a call at 804-339-9720 or and we'll help you get started.