At life Saver Training we understand each organization will have different needs, so we have different programs designed to fit those needs. Training is done at your location, at the time that best suits you, Monday through Saturday. We can start at 6am or as late as 6pm. That saves a business time, productivity and money. We also quote based on the number of programs you need and the number of people you need trained. The more you need, the less the cost.
Contact us today for a quote
. (If your location is not appropriate we will use our locations.)
Choose from the top three for your two year certification
ASHI CPR AED Training is a
combined CPR and AED program
designed specifically for laypeople. The program is an
excellent choice for both the community and workplace setting
, and is based upon the 2010 International Consensus on Cardiopulmonary Resuscitation (CPR) and Emergency Cardiovascular Care (ECC) Science with Treatment Recommendations (CoSTR) and other evidence-based treatment recommendations.
American Heart Association Professional Level CPR
The BLS for Healthcare Providers course is designed to provide a wide variety of certified or noncertified, licensed or non licensed, healthcare professionals with the skills to keep people alive until they can be brought to a hospital or be treated with more advanced lifesaving measures. The BLS course teaches professional Adult, Child, and Infant CPR focusing on two person CPR, choking, the use of BVM's, and AED's.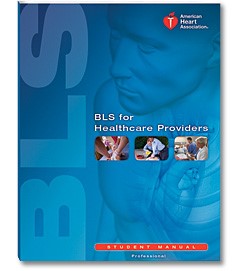 The BLS Course Covers
Adult and pediatric CPR
Two-rescuer scenarios and use of the bag-valve mask
Foreign-body airway obstruction (conscious and unconscious)
Automated external defibrillation (includes child AED update)
Special resuscitation situations
Other cardiopulmonary emergencies
Stroke and cardiac arrest
BLS training is intended for certified or noncertified, licensed or non licensed, healthcare professionals, including
physicians
nurses
paramedics
emergency medical technicians
respiratory, physical, and occupational therapists
physician's assistants
dentist and dental hygienist
residents or fellows
medical or nursing students in training
aides, medical or nursing assistants, and other allied health personnel
In addition, BLS training can be appropriate for first responders, such as police officers and firefighters, as well as for laypeople whose work brings them into contact with members of the public, such as school, fitness center, or hotel and restaurant employees.
Students must pass a written exam and skills test in order to qualify for a BLS for Healthcare Provider Course Completion Card.
AHA Non-BLS CPR & AED
This course is for anyone with limited or no medical training who needs a course completion card in first aid, CPR and AED use to meet job, regulatory or other requirements. The American Heart Association CPR AED Training class teaches life saving fundamental practices and knowledge such as the chain of survival.
ECSI certifications are approved in all 50 states for CPR/AED training. The Emergency Care & Safety Institute (ECSI) provides first aid, CPR, and other emergency care training courses that lead to certifications that meet job-related requirements as defined by hundreds of regulatory authorities throughout the world.
ALL ACCREDITED TRAINING AGENCIES ADHERE TO THE TRAINING PROTOCOLS AGREED TO WITH International Liaison Committee on Resuscitation.