Programmable Emergency 911 Pendant
FreedomAlert is the world's first programmable two-way voice pendant communicator with no monthly fees. Personal security has never been so small or affordable. The FreedomAlert can be programmed to call family, friends, or neighbors, at anytime from anywhere in the home and into the surrounding yard. If the programmed contacts are unreachable – the system can default to call an emergency 911 operator.
Two-way Voice Communication
The FreedomAlert has the ability to be programmed with up to four (4) contacts to call anytime. The system can be customized with the three position switch on the back of the base unit to select one of three modes. A power outlet and an active landline are all that is needed for the unit to operate. The medical pendant is powered by a lithium-ion battery that lasts up to 6 months on a single charge.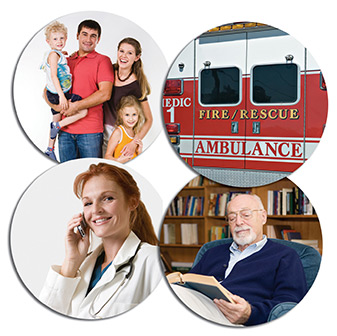 Features
Program up to 4 personal contacts

Slide switch on unit allows to select 3 modes

Dial 5 feature: Call recipient is prompted to press '5′ to continue emergency call. If the call hits voice mail and '5′ is not pressed, the next programmed number will be dialed automatically

Audible prompts and confirmations during set-up and testing

24 hour emergency battery back-up

Water resistant pendant
Specification
Compatible with any standard tone land-line and most VoIP

DECT communication technology (Digital Enhanced Cordless Telecommunications)

Operating Frequency: 1.9 GHz Spread Spectrum

Coverage: 600ft (183m) line of site

Battery: lithium-ion rechargeable for pendant, AA NiMh rechargeable for base (available only through LogicMark)

FCC & DOC Canada certified

Factory is ISO-90001 approved